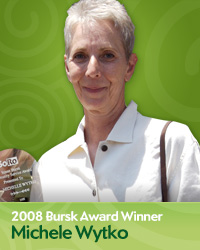 The newly-renamed Susan Bursk Founder's Award is presented each year to an individual in recognition of his or her dedication and service to the South Robertson Neighborhoods community. The award is presented by SoRo Inc. and SORO NC at the SORO Festival.

This year's winner was community activist Michele Wytko for her tireless efforts to improve her La Cienega Heights neighborhood.

A special Service Award was also presented to Senior Lead Officer Rashad Sharif for his work in La Cienega Heights and in helping to establish the Robertson Activities League anti-gang program.

We're deeply grateful for the work Michele and SLO Sharif have done within SORO, and congratulate them on their awards.