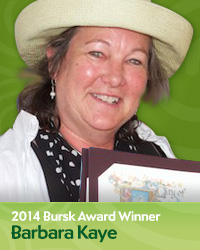 The Susan Bursk Community Service Award is presented each June at the SoRo Festival to an individual in recognition of his or her dedication and service to the South Robertson Neighborhoods community. The award is co-sponsored by SORO NC and the SoRo Community Foundation, Inc.

This year's winner was Barbara Kaye, a one-of-a-kind, phenomenal art teacher at Castle Heights Elementary School with an impact on hundreds of children, teachers, and parents. As a volunteer for many years, Barbara has donated thousands of hours in beautifying the school, teaching art of many genres, creating plays and displays, and infusing the curriculum with artistic elements. She patiently engages children who think they can't paint and helps them discover that they can, much to their surprise and delight. Barbara is an inspiration to both teachers and students.

At our June Board meeting we will also recognize the other community members nominated this year:


Saran Kirschbaum — Community volunteer and docent for the Ballona Creek Wetlands
Karen Smith-Laramay — Head of the Science Department at Hamilton High
Barry Levine — Long-time Chair of SORO NC's Education Committee
Terrence Gomes — Treasurer of SORO NC and Co-Chair of this year's SoRo Festival
Doug Fitzsimmons — President of SORO NC

We're deeply grateful for the work all the nominees have done within SORO, and congratulate them on their nominations.