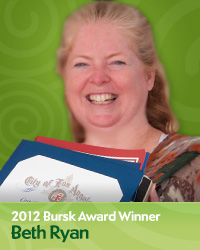 The Susan Bursk Community Service Award is presented each year at the SoRo Festival to an individual in recognition of his or her dedication and service to the South Robertson Neighborhoods community. The award is co-sponsored by SORO NC and SoRo, Inc.

This year's winner was Beth Ryan, President of the Crestview Neighborhood Association. In addition to her work organizing and connecting the Crestview community, Beth has also spearheaded the Stepping Forward/Robertson Activities League program, a youth leadership development program originally created in response to gang shootings in the SORO area.

At our July Board meeting we will also recognize the other community members nominated this year:
Carmen Dominquez - Principal at Shenandoah Elementary
Doug Fitzsimmons - President, SORO NC
HarSimran Khalsa - Community volunteer
Karen Smith-Laramay - Teacher at Hamilton High School
Paula Waxman - Green Team Co-Chair, SORO NC

We're deeply grateful for the work all the nominees have done within SORO, and congratulate them on their nominations.