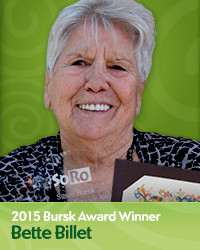 The Susan Bursk Community Service Award is presented each June at the SoRo Festival to an individual in recognition of his or her dedication and service to the South Robertson Neighborhoods community. The award is co-sponsored by SORO NC and the SoRo Community Foundation, Inc.

This year's winner was Bette Billet. Bette served on the SORO NC Board from its founding in 2003 to April, 2015. During 12 years of incredible community service, she has conservatively logged close to 1000 hours of active community service. Bette has been responsible for identifying and bringing many other community leaders into the fold, and has worked tirelessly for the betterment of this community.

Bette has been fearless in reminding her NC colleagues and elected officials colleagues that we represent the whole community, and that our work should always strive to understand and be inclusive of ALL points of view. In 2008 she was recognized by then-City Attorney Rocky Delgadillo as the "LA Pearl of the Year"—an award that recognizes outstanding seniors who have made significant contributions to Los Angeles residents' quality of life.

Her mark on the community and the NC has been indelible, and richly deserving of recognition.

At our July Board meeting we will also recognize the other community members nominated this year:


Cristina Paul — Community volunteer and founder of the Helms Neighborhood Association
Leo Portal — Crestview Block Captain, SORO NC Organization Representative, and founder/chair of the NC's LGBTQ Committee

We're deeply grateful for the work all the nominees have done within SORO, and congratulate them on their nominations.