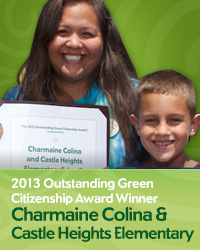 A shining example of outstanding green citizenship, Charmaine Colina and Castle Heights Elementary School's administrators, teachers, parents and students have won this year's Outstanding Green Citizenship Award at the 2013 SoRo Festival. They embody the three "R's" of environmental sustainability: Reduce, Reuse, and Recycle. Charmaine has even added a forth one, "Rethink."

Together they have changed the environmental culture of Castle Heights School. Here are just a few examples:
In her first two years at Castle Heights, Charmaine expanded the school's recycling program from 7 blue bins to over 30.
Charmaine created our community's biggest annual environmental event: Earth Week and Eco Fair. She involves students, parents, and the community in sustainable practices by making them fun. For one week, kids and parents are encouraged to ride bikes to school or carpool; eat organic food; use recycled materials. Their E-waste drive is open to the entire community.
The administration has phased out the school's use of paper communication by employing emails and the school's website. When flyers are needed, they are limited to one per family. Cardboard lunch trays are recycled. Reusable grocery bags and water bottles are sold as school fundraisers.
She and her colleagues take their students to beach clean ups and TreePeople and use public transportation. The students have created a video about recycling and formed an environmental club.
The school has a learning garden where students learn that the earth is what sustains us.

We hope by honoring outstanding teachers like Charmaine, and schools like Castle Heights Elementary, it will encourage others to emulate their work by doing their part in caring for our environment.