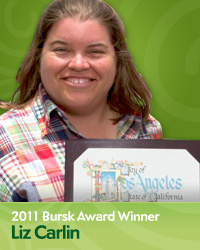 The Susan Bursk Community Service Award is presented each year at the SoRo Festival to an individual in recognition of his or her dedication and service to the South Robertson Neighborhoods community. The award is co-sponsored by SORO NC and SoRo, Inc.
This year's winner was Liz Carlin, our outstanding Tenth District Deputy for Councilmember Herb Wesson. Liz consistently goes above and beyond for SORO. She exemplifies what a great public servant should be, and we are lucky to have her working on our behalf.
At our June Board meeting we will also recognize the other community members nominated this year:
Andrew Rayner
Baila Romm
Marjan Safinia
Paula Waxman
We're deeply grateful for the work all the nominees have done within SORO, and congratulate them on their nominations.