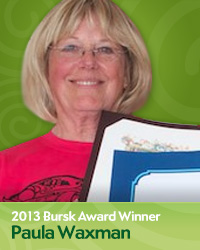 The Susan Bursk Community Service Award is presented each June at the SoRo Festival to an individual in recognition of his or her dedication and service to the South Robertson Neighborhoods community. The award is co-sponsored by SORO NC and the SoRo Community Foundation, Inc.

This year's winner was Paula Waxman. As Co-Chair of SORO NC's Green Team with Larry Hess and Saran Kirschbaum, Paula has helped spearhead some of the most dynamic programs in our area. In addition to founding the Hamilton High Garden, organizing annual fruit picks to benefit local food banks, and co-ordinating the 2012 Robertson and 2013 Pico tree plantings, under Paula's stewardship the Green Team has lead the City on policy issues like the elimination of coal burning power plants, plastic bag and styrofoam restrictions, GMO food labeling, urban beekeeping, and a moritorium on fracking.

At our June Board meeting we will also recognize the other community members nominated this year:


Charmaine Colina - Teacher at Castle Heights
Larry DeMers - SoRo Community Foundation Treasurer
Terrence Gomes - SORO NC Treasurer, President LAANC
Erick Morales - Hamilton Student/Former SORO NC board member
Aubrey Provost - Property Owner, SoRo Community Foundation board member
Celine Sotelo - Le Petit Jardin Restaurant/Flower shop

We're deeply grateful for the work all the nominees have done within SORO, and congratulate them on their nominations.