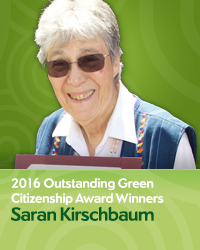 Saran Kirschbaum was the 2016 winner of the Outstanding Green Citizenship Award presented at the SoRo Festival.

Saran Kirschbaum was the first member of the new South Robertson Neighborhoods Council Green Team in 2009. In the 1970's, she joined Wattle's Farm, an early organic community farm in Hollywood. By 1995, she co-founded The Coalition of the Environment and Jewish Life of Southern California, which became a founding member of the LA Interfaith Environmental Council, a coalition of religious institutions charged with making environmental issues a focus of life in Southern California. A writer and docent for the Ballona wetlands, she has served on the Environmental Advisory Committees to State Assembly Speaker Karen Bass and State Senator Holly Mitchell. If you don't know Saran, you've probably seen her walking our neighborhood, picking up litter and recyclables which she turns in for money for the Hamilton High School Garden.

For a lifetime of walking the "green walk," Saran Kirschbaum is honored for her "Outstanding Green Citizenship." As always, our hope is that by honoring environmentally-friendly businesses and individuals like Saran, it will encourage others to emulate her work by doing their part in caring for our environment.