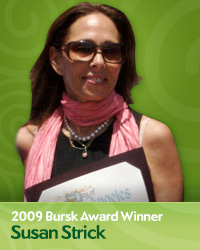 The Susan Bursk Award is presented each year to an individual in recognition of his or her dedication and service to the South Robertson Neighborhoods Community. This year's winner was Susan Strick for her outstanding service as both a private citizen and as a Neighborhood Prosecutor in the City Attorney's office.
SORO NC will be publicly recognizing Susan and all the 2009 nominees at the August General Board meeting:


Carmen Dominguez
Doug

Fitzsimmons

Susan

Gans

Gary Garcia
Rabbi

Kanefsky

Penny

Mehra

Cynthia

Ojeda

Jane Rogers
Daniel

Rojo

Baila

Romm

Marjan

Safinia

We're deeply grateful for the work all the nominees have done within SORO, and congratulate them on their nominations.