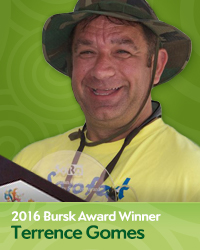 The Susan Bursk Community Service Award is presented each June at the SoRo Festival to an individual in recognition of his or her dedication and service to the South Robertson Neighborhoods community. The award is co-sponsored by SORO NC and the SoRo Community Foundation, Inc.

This year's winner was Terrence Gomes.

Terry has served as the Treasurer for the Neighborhood Council for the best part of the last decade. In addition to all the regular time commitment NC members give, being treasurer requires Terry to take on significant additional work, including heading downtown to argue and advocate on behalf of SORO's interests to make sure that the community is getting the funds it deserves.

Terry has become one of the more prominent members of the City's budget advocates program, a volunteer group of Neighborhood Council leaders who painstakingly pore over the Mayor's budget each year, challenging and pushing back to make sure that our public funds across the city are spent as responsibly as possible. Terry has probably committed hundreds of hours to this role over the years, and in so doing, has not only advocated on behalf of us all, but has also helped push SORO's name and reputation up front in the minds of City partners.

2016 marks the third year that Terry and past Bursk Award winner Jon Liberman have taken over implementation of the SoRo Festival. As the folks on the panel know all too well, this is an enormous commitment of energy and time which Terry takes on in addition to all the other commitments of community service he takes on. And on festival day, he's the first to show up at dawn and help build, and the last to go home in the evening hauling trash and doing whatever needs to be done to make the event a success.

Terry epitomizes the idea of community service. Whether it's working with local businesses to resolve community issues, organizing SORO's annual homeless count, or slinging burgers and hot dogs all day long at Council President Wesson's Movies in the Park event, he never misses an opportunity to give service.

At our July Board meeting we also recognized the other community members nominated this year:


Michoel Bloom — volunteer with the LAPD Counter Terrorism Liaison office, EMT responder for Hatzolah (the Jewish communities all volunteer emergency medical services), and SORO NC Public Safety Vice Chair
Doug Fitzsimmons — long-time SORO NC President

We're deeply grateful for the work all the nominees have done within SORO, and congratulate them on their nominations.