Quality of Life Committee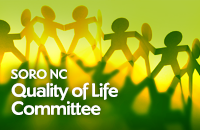 According to the New York Times, "Civic engagement means working to make a difference in the civic life of our communities and developing the combination of knowledge, skills, values and motivation to make that difference. It means promoting the quality of life in a community, through both political and non-political processes."

The Quality of Life Committee is looking for civic minded community members who are willing to participate in positive discussion and take action when necessary to improve conditions and help shape the future of our community. The committee will be gathering experts, information and resources as well as developing the relationships needed to make the improvements we feel are important in our community.

If you have concerns, ideas for neighborhood improvements or would just like to learn more about how the Neighborhood Council and City of Los Angeles works, please join us.

For more information on when we meet and what we're working on, email us at qualityoflifechair@soronc.org.