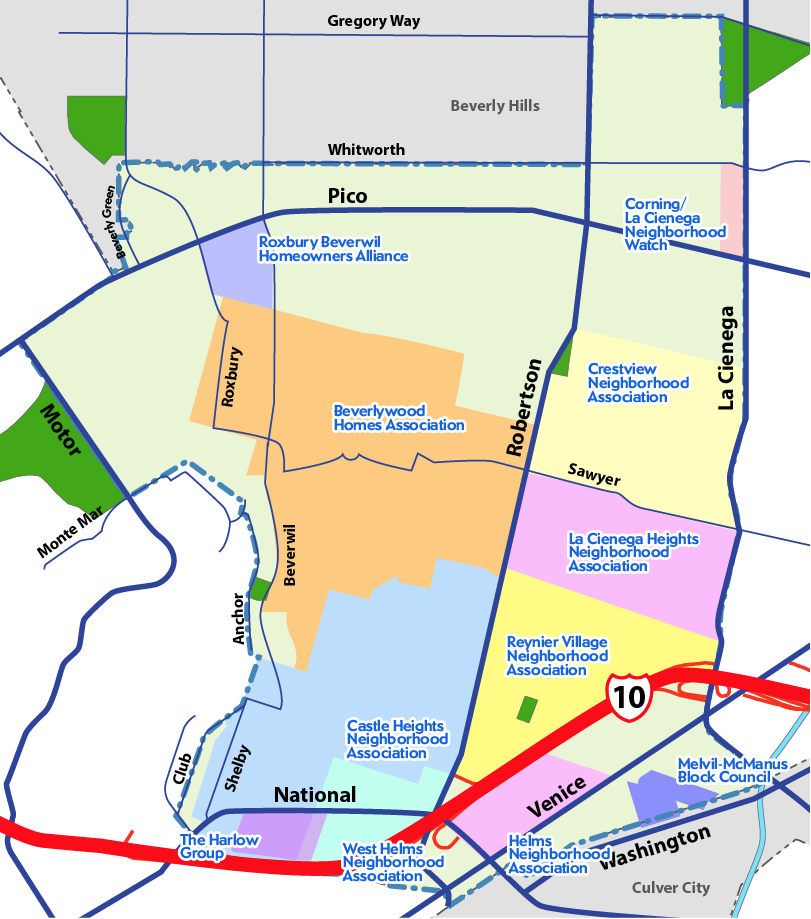 South Robertson is located directly between the booming cities of Beverly Hills and Culver City, 15 minutes from the beach and 15 minutes from Downtown. In terms of its widely varied demographic, South Robertson is like much of Los Angeles, yet it is something of an unknown to many in the city.
It contains the busy streets of Robertson, Pico, La Cienega and Venice Boulevards; it has single-family neighborhoods consisting of Spanish Colonial bungalows from the 1920s, postwar ranch houses, as well as contemporary homes; and a very large neighborhood of apartment buildings dating from the 1920s all the way to Finished Last Month. Home values range from multi-million dollar homes to affordable housing.
People from many different cultural, religious and ethnic backgrounds move to the South Robertson area because it offers nearly every aspect of city life—accessible businesses, restaurants, schools, houses of worship and attractive walking neighborhoods.
But it is also a community with a great deal of unrealized potential, with much of its future ahead of it. With an eye to this brighter future, the South Robertson Neighborhoods Council is working to implement programs that will help SORO become a "greener" community, a community with a business district that is a walking destination and a community with improved and safer public spaces that all its residents can enjoy.

We've also partnered with KCET to tell SORO's stories through their Departures series. This ongoing project features articles and video to paint a fuller portrait of this complex and dynamic community.
South Robertson is a neighborhood that fuses the history of old Los Angeles with the diversity of contemporary Los Angeles and looks to make its mark as one of the most progressive neighborhoods of future Los Angeles.