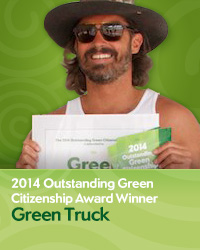 As the first and only environmentally sustainable Organic Gourmet Food service business, The Green Truck was this year's winner of the Outstanding Green Citizenship Award at the 2014 SoRo Festival.

Located in Los Angeles, they operate a solar powered production kitchen and alternative fuel catering trucks.


The Green Truck only uses certified organic ingredients, without harmful pesticides and genetically modified organisms (GMO). Going organic also keeps these harmful pollutants away from plants, animals, and waterways.
To cut down on harmful transportation byproducts such as greenhouse gas CO2, The Green Truck buys locally grown ingredients whenever possible.
Their solar powered commissary adds whatever clean energy they don't use to the city's power supply.
Even cleaning products are environmentally friendly, ensuring that we are not polluting our oceans with unnecessary chemicals.
All of their trucks run off of vegetable oil previously used by The Green Truck and other food service companies in the Los Angeles area. By using recycled vegetable oil, they not only help to keep grease from clogging the city's drainage systems, but utilize a fuel that creates no harmful emissions to the environment and definitely does not add to our dependence on foreign oil.
All food packaging containers, bags, napkins, and utensils are made from bio-compostable products rather than plastics and Styrofoam. This process generates zero trash and utilizes sustainable technologies that minimize pollution in the production process.

As always, our hope is that by honoring environmentally-friendly businesses and individuals like The Green Truck, it will encourage others to emulate their work by doing their part in caring for our environment.